The Westhope School has a fun family engagement opportunity for tomorrow night! Ages 4 years old through the 6th grade can attend with a parent. Hope to see you there!
Tomorrow is Elementary Playday! The events are open to the public. Feel free to come and go as you please.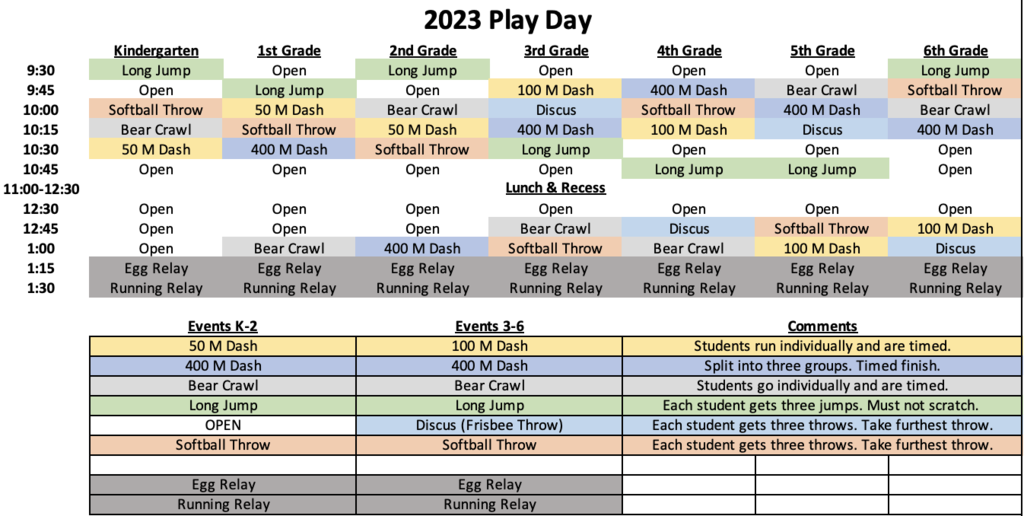 NOTICE OF ELECTION Notice is hereby given that on Tuesday, the 6th day of June 2023 the annual election will be held for the purpose of electing members to the school board for two, three-year positions. All members are elected at large. The question of whether to publish in the official newspaper, minutes of the school board meetings, will also be voted on. The polls will open at the Gateway Motel community room at 8:00 am CDT and will close at 7:00 pm CDT on that day. Absentee/Mail in Ballots and instructions can be obtained from the Westhope Public School Webpage at
www.westhopes.k12.nd.us
, from the Business Office or by calling the school at (701) 245-6444 and requesting one to be mailed to you. Westhope Public School District #17 Barry Trottier Business Manager

Good Afternoon Westhope, For the families participating in the summer food service program please complete and turn in your consent form for the home delivery.   If you need this form, please contact the office at (701) 245-6444.  Please have this completed by May 24th, 2023. Thank You
The senior Baccalaureate will be on Wednesday, May 17th at 7:00 PM. It will take place at St. Andrews Catholic Church.

Good morning, We have posted our 2023 Sioux Strength Sign-Up on our activities page on the school website. You can also find the link on our Activities' social media pages. For any questions, please contact Garrett Wible.

Good Morning Westhope, Westhope school will be running buses and classes 1 hour late today. There will be no breakfast served today or morning activities.

Good Morning Westhope, Westhope Public School will run buses and classes 2 hours late today, Thursday, April 6. Buses will only run where possible. There will be no morning activities or breakfast served. Thank You
Good Morning, Westhope School will have a virtual learning day for students in grades 7-12 and no school for students in K-6. The Westhope Virtual learning plan will be e-mailed out for reference to all parents. Please stay warm and safe.

Save the Date! The Westhope-Newburg FFA Chapter Banquet will be Thursday, April 13th at 6 pm in the Westhope School Commons. Mr. Odermann is cordially inviting all FFA student families, Alumni, local Farmers and Ranchers to come enjoy a roast beef meal with our current FFA students and then stick around for an alumni meeting after the banquet. #BlueandGold
Parents and students, please check out the 2023 After Prom Party information if you or your child is attending.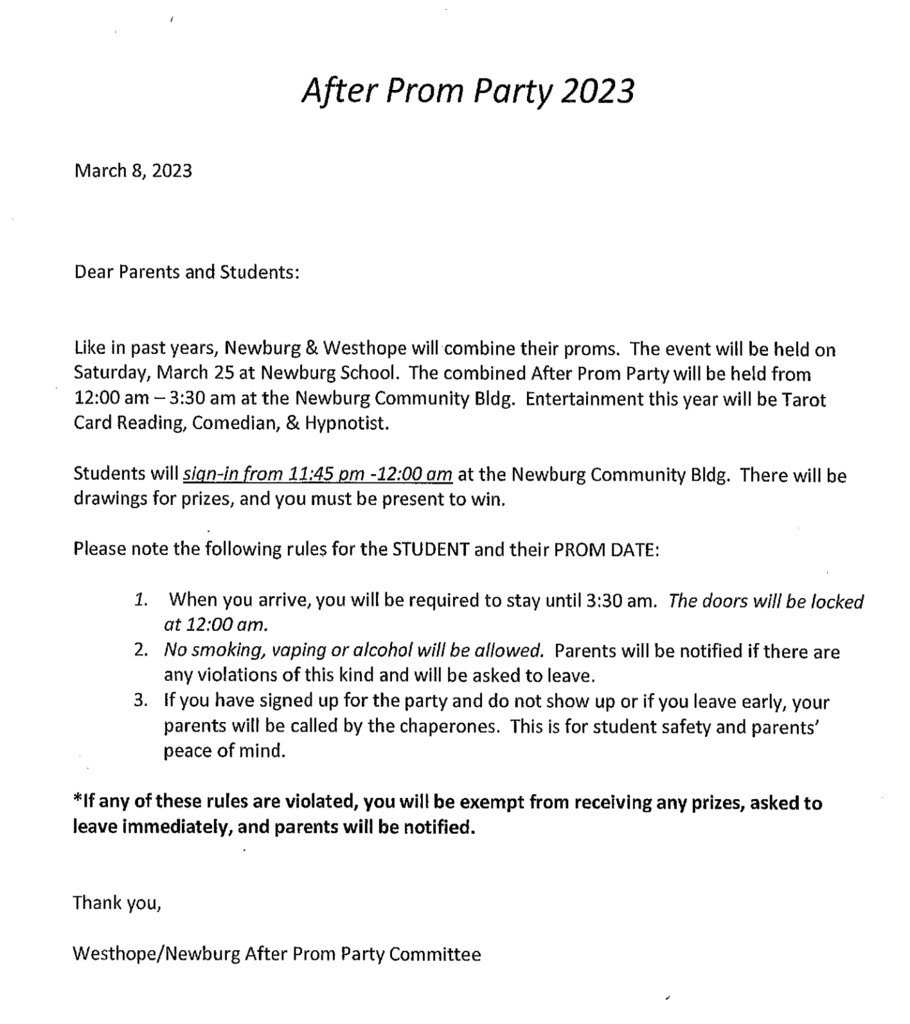 Good Afternoon Westhope, Gentle Reminder: Westhope School will have classes Monday, March 20th. This is a make-up snow day from December. We hope you all have a great Spring Break.

Good evening Westhope, The storm has passed us, plow crews are working diligently, but many rural bus roads are still blocked. We will run school at normal time tomorrow, but buses will only go where possible. Please call your driver if you know your road or yard is still blocked. Any students who can not make it to school tomorrow will be excused. Stay safe.

Weather Announcement: The JHBBB games In Glenburn and the HS Speech in Westhope meet scheduled for Saturday are cancelled due to the impending weather.
Gentle Reminder: There is no school on Monday, Feb. 20th for President's Day observance and Spring Parent Teacher Conferences Comp Day.
Gentle Reminder: Tomorrow, Friday, Feb. 10th at 1:00 pm, Westhope School will have our next Early Release for students, for Teacher Professional Development. We would like to thank our community for allowing us this time to provide valuable training opportunities for our staff.
Gentle Reminder: The Spring Westhope School Parent Teacher conferences will be this Wednesday, February 8 from 3:30 pm to 9:00 pm. We look forward to visiting with parents. Coffee and cookies will also be served.
The Westhope School Board Election is set for June 6, 2023. For more information or paper copies of candidate forms and absentee ballot requests, please contract Barry Trottier, Business Manager at 701-245-6444 or
barry.trottier@k12.nd.us
Westhope School Board Election forms for candidates and voter absentee ballot requests are also available at:
https://www.westhope.k12.nd.us/page/school-board

Good Afternoon Westhope, With water pressure restored Westhope School will resume classes at normal time tomorrow. Please note that the current water from the tap is not suitable for drinking until further notice. However, we do have a full supply of RO water in our system to provide drinking water for all students and staff until the repair is completed. We will also provide bottled water if needed. Thanks again for your patience and flexibility as we have navigated this challenge.

Good Morning Westhope, Unfortunately we couldn't get our water system pressurized this morning. We will be releasing our students at 10:30 am today. Buses will leave the school at 10:35 am. Thank you for your understanding as we work through this challenge. I also want to give a shout out to our City Team and contractors for their hard work to try and fix the problem this am. They will have us up and going as soon as possible. Please stay safe and warm today.