Weather Announcement: The JHBBB games In Glenburn and the HS Speech in Westhope meet scheduled for Saturday are cancelled due to the impending weather.
Gentle Reminder: There is no school on Monday, Feb. 20th for President's Day observance and Spring Parent Teacher Conferences Comp Day.
Gentle Reminder: Tomorrow, Friday, Feb. 10th at 1:00 pm, Westhope School will have our next Early Release for students, for Teacher Professional Development. We would like to thank our community for allowing us this time to provide valuable training opportunities for our staff.
Gentle Reminder: The Spring Westhope School Parent Teacher conferences will be this Wednesday, February 8 from 3:30 pm to 9:00 pm. We look forward to visiting with parents. Coffee and cookies will also be served.
The Westhope School Board Election is set for June 6, 2023. For more information or paper copies of candidate forms and absentee ballot requests, please contract Barry Trottier, Business Manager at 701-245-6444 or
barry.trottier@k12.nd.us
Westhope School Board Election forms for candidates and voter absentee ballot requests are also available at:
https://www.westhope.k12.nd.us/page/school-board

Good Afternoon Westhope, With water pressure restored Westhope School will resume classes at normal time tomorrow. Please note that the current water from the tap is not suitable for drinking until further notice. However, we do have a full supply of RO water in our system to provide drinking water for all students and staff until the repair is completed. We will also provide bottled water if needed. Thanks again for your patience and flexibility as we have navigated this challenge.

Good Morning Westhope, Unfortunately we couldn't get our water system pressurized this morning. We will be releasing our students at 10:30 am today. Buses will leave the school at 10:35 am. Thank you for your understanding as we work through this challenge. I also want to give a shout out to our City Team and contractors for their hard work to try and fix the problem this am. They will have us up and going as soon as possible. Please stay safe and warm today.

This is a community Public Service Announcement. The City of Westhope is working on a water main break in town and has asked all citizens to help conserve water at this time. If this impacts school running tomorrow we will send out an announcement in the morning. Thank You
Good Morning Westhope, Westhope Public School will be closed today, Friday, December 16th. At this time we are currently still in a No Travel Advisory. There is a Blizzard Warning until 6 pm, and many of our bus routes have areas that are blocked. Please stay warm and safe

Good Evening Westhope, We have moved into a No Travel Advisory AGAIN, and in a Blizzard Warning until 6 am tomorrow. With conditions deteriorating this evening we are going to start 2 hours late tomorrow, Friday, December 16 and hope we can get buses on the road later in the morning. Thank you all for your continued patience as this storm has morphed and hung around longer than originally forecasted. Please Stay Warm and Safe.

Good Morning, Westhope Public School will be closed today, Thursday, December 15. The Christmas program will also be postponed tonite. We will send out communication when an alternate date for the program is set. Please stay safe and warm today.

Westhope School will run buses and classes two hours late tomorrow, Thursday December 15th. There will be no activities or breakfast service in the morning. We will make a final determination to have school or not by 8:30 am. Thank You

Due to the Winter Weather Warning and No Travel Advised Warning in our area, Westhope Public School (classes and activities) will be cancelled today, Wednesday, December 14.

Good morning, The Junior High Girls' Basketball game scheduled for today in Newburg has been postponed. They will also not have practice. Thanks, Garrett Wible, Activities Director

Good Morning, Westhope School will run at normal time today. Road conditions have improved from last night but are still seasonal. We would like to ask parents to remind their HS age drivers to take extra time and precautions when driving in today and for all parents to be prepared for a possible early out if conditions get worse this afternoon. We will watch the weather all day and stay ahead of it for our students and staff safety. Any activities decisions will be send out later today if needed. Thanks, Marty Bratrud, Superintendent
Please join us for this year's Veteran's Day Program!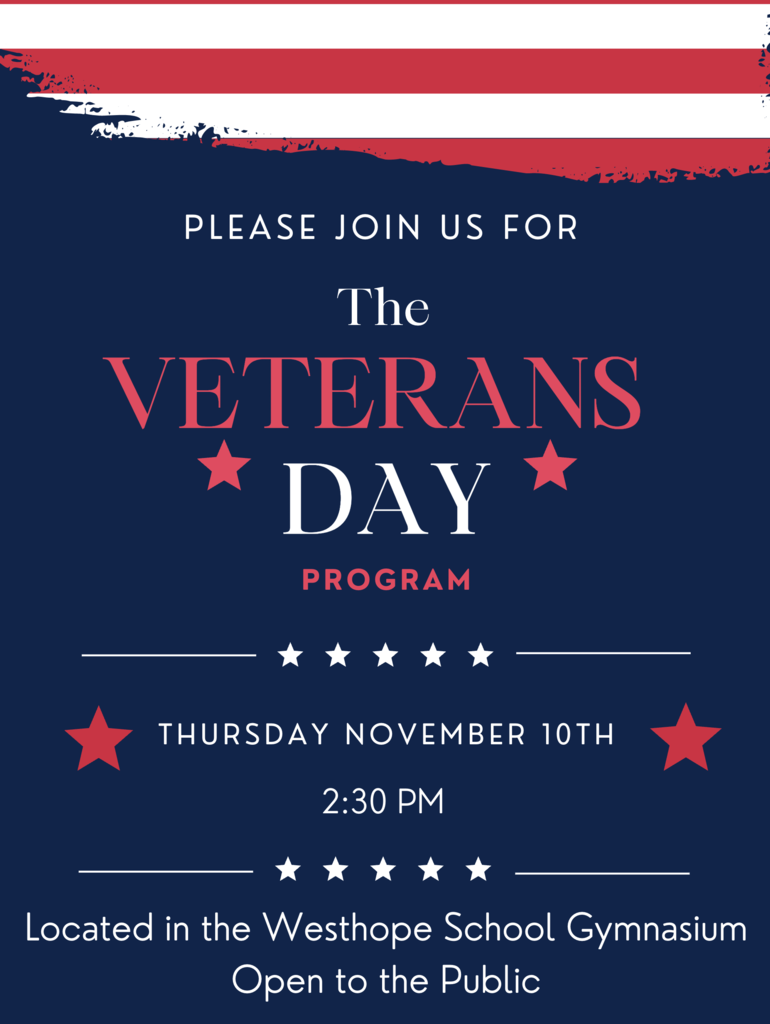 Don't forget individual picture day tomorrow.

PWBBB Parents: practice today has been cancelled. Have a great weekend!
We are excited to have KC Photography taking individual student pictures Tuesday September 27th.