The Westhope School Board and Administration would like to cordially invite all of you to attend the Sept. 7, 2022 Public Truth in Taxation Meeting in the Westhope School Commons. A free roast beef dinner will be served at 6:00 pm with the meeting to follow at 6:30 pm. The Westhope School Board will be making important decisions regarding future taxation in the coming months. We will be presenting several options for future taxation strategic planning and would like to receive stakeholder feedback regarding each of these options. We hope you all can attend this important meeting. A meeting flyer is provided at this link: Westhope Public School Truth in Taxation Meeting Flyer Please feel free to reach out to me at 701-245-6444 if you have any questions or would like more information prior to the Truth in Taxation Meeting. Marty Bratrud Superintendent
Gentle Reminder: 7-12 Class Registration will be Wednesday, August 17, 2022 from 9 am to 4 pm.
The Westhope Public School July Annual School Board meeting has been moved from July 27th at 7:00 am to July 25th at 6:30 pm in the Board Room.
Recently the North Dakota Department of Game and Fish provided students with the chance to design their own "Earth Day Patch 2022". The students were provided with a template and instructions. They were limited to 4 colors, and it needed to represent North Dakota and Earth Day. This week Westhope 2nd grade students Zaven Efimenko and Braysen Grann were given a patch that was ultimately chosen but their artwork was considered. Soon (12 May) you will see the second grade and sixth-grade students from the elementary school out in our community as they work on the beautification of our community…aka trash pick-up day! Finally, our winter is winding down and the trash is exposed so be on the lookout as they pick it up, bag it, and get it out of the community. Always remember that every day is Earth Day!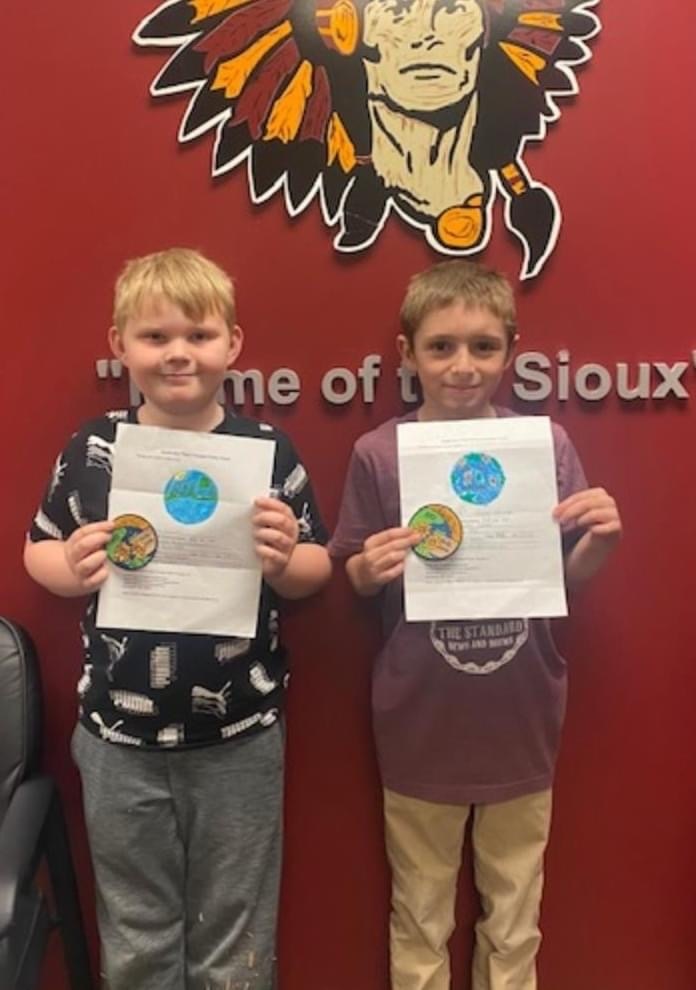 Charlee Strand won 2nd place in the Bottineau County Government Month Coloring Contest. She competed against all of the 2nd graders in Bottineau County. Here she is pictured with the Bottineau County Auditor, Emily Deschamp. Congrats Charlee!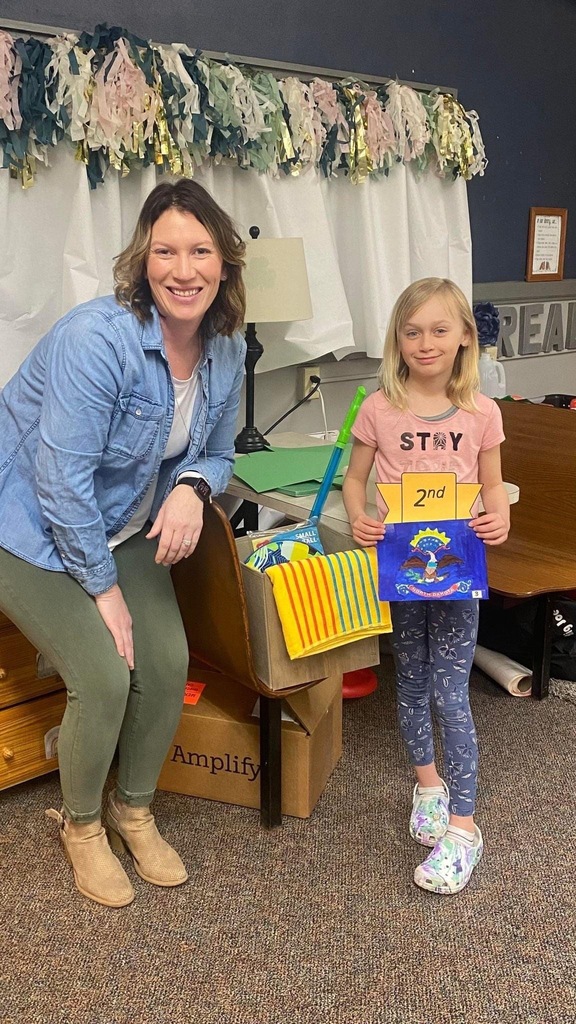 The Westhope Summer Food Service Program will be available to students ages 4-18, Monday through Friday (except May 30 and July 1 and 4) this summer. This program will start May 23 and run through August 19. Students must be pre-registered for this program. Please contact the office at 701-245-6444 by May 1. 2022 to get signed up!
Baccalaureate for the Westhope Senior Class will be at Trinity Lutheran Church on Wednesday May 18th at 6:30 pm. Cake will be served following the service.
Good Afternoon, Westhope Public School will be closed Thursday, April 14, 2022 due to the storm. Thursday will be a non-instructional day for all grades PK-12 and will not be made up, it will be a comp day for staff from an August 2021 professional development day. Classes will resume Tuesday, April 19. We hope you all have a great Easter holiday!
Good Evening, Westhope Public School will be closed tomorrow, Wednesday, April 13, due to the winter storm., Students and Staff in grades 7-12 have been prepped to conduct distance online learning tomorrow. H.S. staff will be available online to assist students with their assignments. Students PK-6 will have a non-instructional day. A decision for Thursday will be made tomorrow afternoon or evening. Please stay safe and warm.

Update!!! The Fifth grade negotiated for Strawberry milk last week and today Mr. Trottier and our Kitchen staff: Candi, Sandra, and Connie Delivered for lunch. #powerofpersausion

Mr. Todd Wolf the Chess Guy came to WPS again but this time held tournaments for the high school and upper elementary. Alex Tofteland was the 10-12 grade champion, Will Artz was the 7-9, Parker Artz, Braxton Graf and Logan Caman were the elementary Champs!

Congratulations to our March Westhope High School Students of the Month! Hunter T. for grades 7-9 and Ellie B. For grades 10-12. #leaders #siouxpride

Congratulations to our Dec. Westhope High School Students of the Month! Dayton H. For grades 7-9, and Morgan L. for grades 10-12. #Siouxproud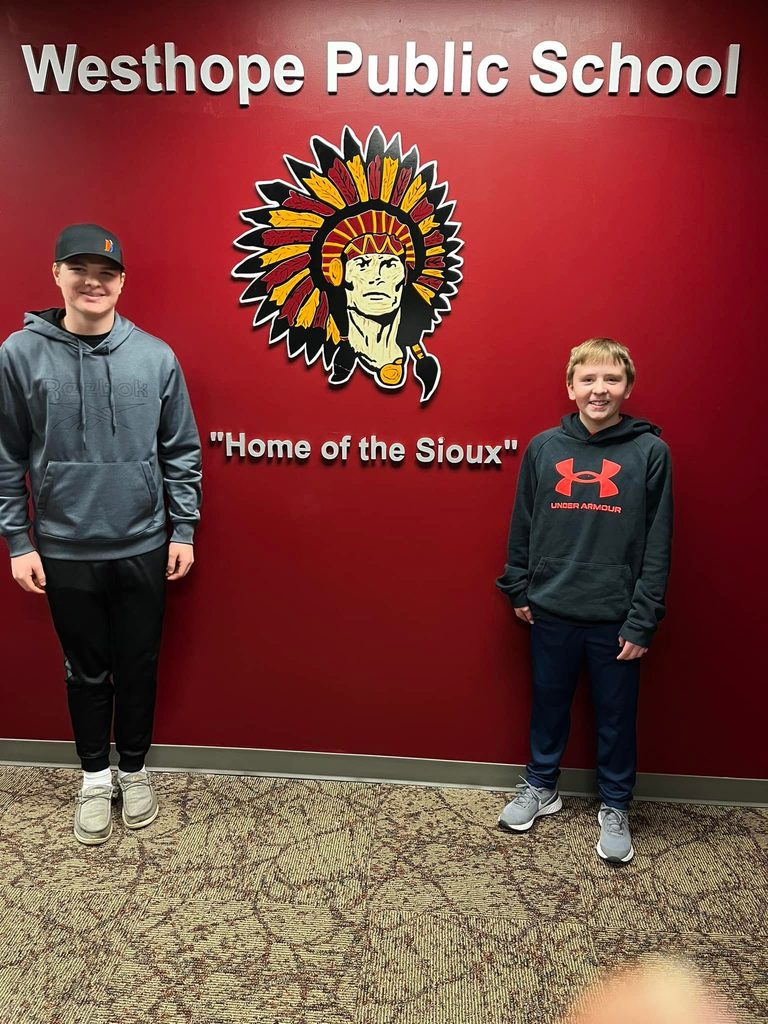 This past week's timed note winner is Everly with 22 seconds!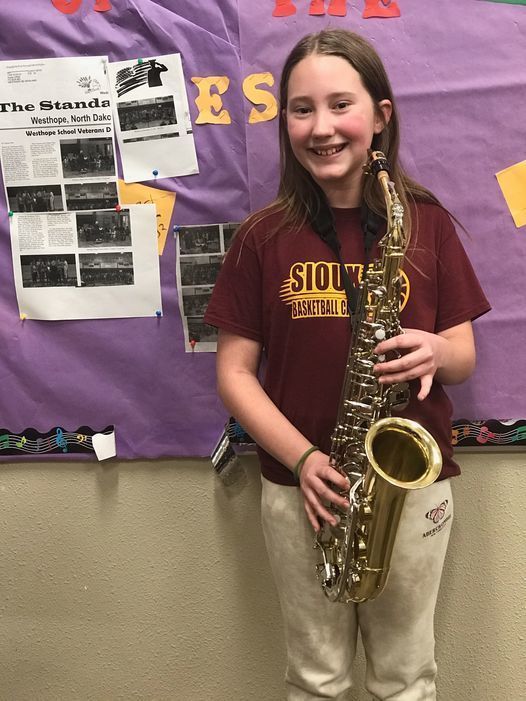 Reminder that tomorrow, October 14th, is Picture Day at Westhope Public School!
Good Afternoon Westhope! Fall Picture Day has been set for Oct. 14th! KC Photography will be our new photography team. There will not be forms this year. A weblink to order photos will be sent home soon for parents to purchase school photo orders.